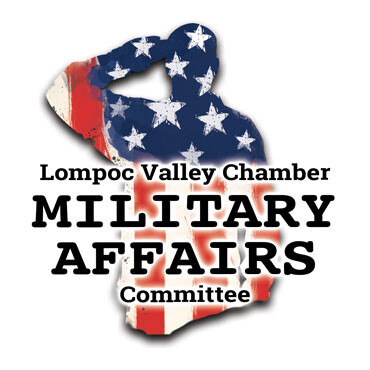 Lompoc Loves their Troops
A supportive partnership between VAFB and the Lompoc Valley
The Lompoc Valley Chamber of Commerce & Visitors Bureau (LVCC&VB) is proud of its long-standing relationship with Vandenberg Air Force Base (VAFB). The Military Affairs Committee promotes programs and events aimed at maintaining a supportive partnership between VAFB and the Lompoc Valley. The committee actively participates in VAFB events such as the Quarterly and Annual Awards Programs and conducts fundraising activities to support an annual Appreciation BBQ for the military personnel and their families.
Meets the Second Thursday of Each Month at 4 pm
This committee meets on the second Thursday of each month at 4:00 pm in the downstairs Chamber of Commerce conference room at 111 South I Street. All are welcome! Bring your ideas and a friend or two!
Local Savings for Military Personnel
The Lompoc Valley Chamber supports the efforts of all of our troops, and in particular, those stationed at Vandenberg Air Force Base. We are proud to have compiled a list of over 50 local businesses that offer discounts for military personnel and we hope this list is useful to service members and their families. The list is available online at [UPDATED DISCOUNT LIST IS NEEDED] and hard copies are available at the Chamber office at 111 South I St.